TCP Brochure.pdf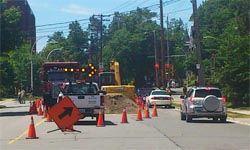 Mission Statement

Our commitment is to provide innovation and expertise in security, traffic control and training services to ensure our clients receive proven quality, impeccable safety and professional experience.

Bourque Security Services maintains a complete traffic control division which is trained and certified to strict government Temporary Workplace Setup and Safety Standards. We are certified by the Nova Scotia Construction Safety Association (NSCSA).

Be it a simple lane closure, or a complicated multi-lane intersection work zone, Bourque Security can accomplish the task safely and efficiently.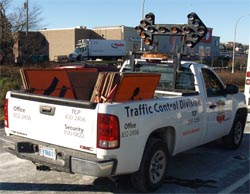 We have the capability and resources to provide traffic control services 24 hours a day, 7 days a week.

Our services include traffic set-up and control for road work construction, natural gas pipeline installations, water main installations, utility repairs etc. We also provide complete security and traffic control services for the film industry which include access control, security of the site, crowd control and responsible traffic management. We often provide specialized traffic control services for films that involve car chase scenes.

Our Traffic Control division can devise a Temporary Workplace Setup that is specific to your individual requirements.