Security Brochure.pdf
Mission Statement

Our commitment is to provide innovation and expertise in security, traffic control and training services. To this end, our clients receive proven quality, impeccable safety and professional experience.

Bourque Security Services is a full-service security provider that delivers professional, reliable security services to a diverse spectrum of clients through a highly skilled, well trained and experienced security team.

We strive as an industry leader to consistently exceed industry and regulatory standards. This includes maintaining responsibility for health and safety with strict adherence to legislation, regulations, codes of practice and safe operating procedures.

Some of our security services include:

Premise and Physical Security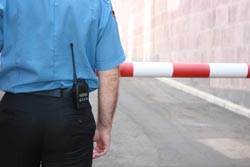 A physical security presence on site offers peace of mind that a security camera alone cannot provide.

From construction sites to shopping malls and apartment buildings, Bourque Security maintains an active guard on every site.

Our guards ensure that your property is fully protected. We will conduct thorough rounds and inspections of your property, immediately respond to and report all emergencies, and further act as a specific deterrent for any potential criminal activity, vandalism or theft.

In addition to providing property security services, Bourque Security also offers personal security services for potentially difficult situations such as serving legal notices or at labour dispute sites.

Event Security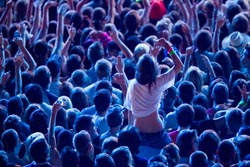 When sponsoring a public event, it is vital that crowds are properly controlled so that people feel safe and secure. A well maintained event will contribute greatly to its success, protect the sponsors reputation, and ensure that the event is enjoyed by everyone in attendance.

Bourque Security takes great pride in the level of knowledge, expertise and service that we can provide to event planners and organizers to effectively determine the level of security coverage that is required for each individual event.

Our event work includes providing security services for sporting, fundraising and school events, Tall Ships, Festivals and indoor and outdoor concerts.

Fire Scene Management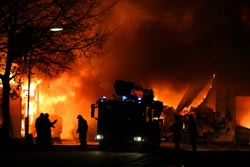 When a fire breaks out, response time is critical. Bourque Security's immediate response time to these types of emergencies has made us a valued partner for firefighters.

Our integrated fire scene management service allows us to work seamlessly across the fire scene to secure the perimeter, protect vital evidence, and ensure the safety of human lives. We have the capability to secure the site for the length of time that is required - hours, days, weeks or even months.

Bourque Security will maintain site security and keep detailed and accurate security logs. This will ensure that firefighters, insurance adjusters and contractors can focus directly on their tasks without having to worry about the security of the site.

Mobile Patrol / Alarm Response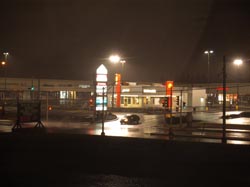 Have goods or property that need protection? Looking for an affordable solution? Bourque Security's mobile patrol and alarm response may be the perfect answer.

Our mobile patrol service is a popular choice for clients who require after hours protection. Our service includes regular site checks, physical inspections and alarm response to make sure your property, inventory and equipment are safe and secure.

Clients that have benefitted from this type of service include automotive, RV and boat dealerships, construction sites and clients with outdoor products such as building supplies or garden centres.

Our mobile patrol and monitoring is also practical for apartment buildings, industrial parks, shopping malls and government facilities. Our Mobile Patrol supervisor will provide a detailed and accurate report of all site checks which will include photographs of any security violations that have been discovered.

Port Security (MARSEC Qualification)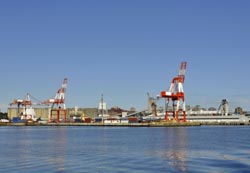 Bourque Security is a certified provider of Port Security services. Our Marine Facility Security Officers (MFSO) are an integral interface between port facilities and ships that arrive at them.

Our security officers are trained according to strict government standards. We maintain detailed log reports, including entry and exit records. Security personnel will monitor the vessel for the unauthorized removal of goods. We will also conduct access control to ensure that only authorized personnel are permitted to board the vessel.

Film Production and VIP Security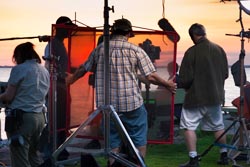 Bourque Security is known as the 'go-to' security company amongst producers in the film industry.

Bourque Security has provided security coverage for over 40 movie productions that have been filmed in the province of Nova Scotia. Click here to see a list of some of the movie sets where we have provided security services.

In addition to providing security to the movie industry, we also provide security for music video shoots and VIP security for celebrities, government officials or persons of prominence visiting our area.

Construction Site Security

New construction is a positive sign of economic growth. It is also an easy target for theft and vandalism
if effective security measures are not established and implemented.

Construction site theft is big business in Nova Scotia. Thieves will often watch and prey on construction
sites that do not have a physical security presence, have poor perimeter security or inadequate lighting,
a lack of natural or video surveillance, and inefficient measures for inventory and access control.

Contractors lose millions of dollars each year in stolen equipment, tools, piping, cables, wiring, vehicles
and supplies. Strategic planning and prevention are essential to construction site security.

BSSNS offers a vast range of specialized security solutions at very competitive prices. Whether you
require a professional uniformed security officer on site, or want to establish a detailed schedule for
mobile patrols, BSSNS will partner with you to secure and protect your construction site property,
equipment and personnel.

Don't be another statistic.....

Contact us today to arrange for a 'free' on-site consultation.